About Us
Tileshop
Founded in 1973, Tileshop has become one of the leading tile importers in California. Many of our tile lines manufactured abroad are conceived, designed and carried exclusively by us. We have established a direct working relationship with manufacturers which allows us to influence the design of new products in an ongoing effort to supply products which reflect the current trends and satisfy the demands of architects, designers and homeowners.
Environment
We selectively import from factories which manufacture under strict guidelines for environmental certification and compliance. Tileshop is proud to promote these factories that participate in the Eco-Label, Emas Green Building Italian Council programs. Some products are able to earn LEED MR credits 4.1 and 4.2.
At Tileshop we are committed to environmental responsibility and have integrated the green philosophy into our work environment. A partial list of things we do to that end includes:
• our main buildings in Berkeley and San Jose have solar panels and generate more electricity than they consume.
• we recycle cardboard, paper, aluminum cans, glass, plastic materials and wooden pallets
• we participate in the City of Berkeley composting program
Community Involvement
Tileshop is an active participant in the community through its tile donation to various charitable projects and organizations. Click Here to see photos of some of our recent collaborations.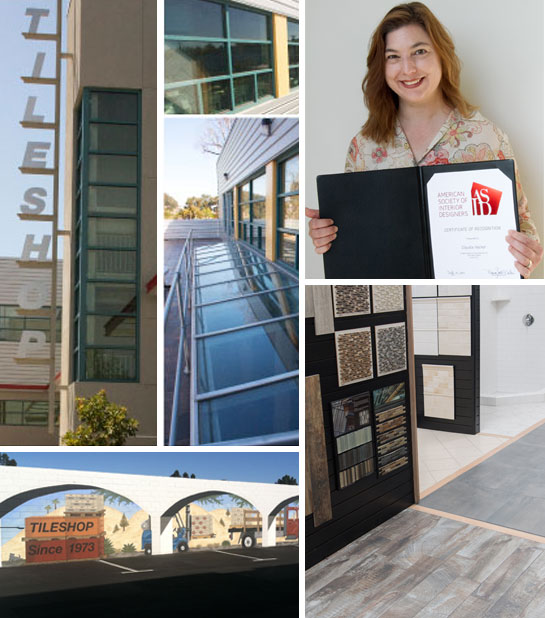 Locations - Berkeley, San Jose & Van Nuys
Each of our three locations has separate outside sales staff that services the design and architectural community, providing tile not only for residential and small commercial jobs, but for very large, commercial projects as well. All of our locations have showrooms with vignettes where we are able to properly display our products, as well as a warehouse that stocks over 90% of what we display in our showrooms. We take great pride in the quality of our products and our outstanding customer service.